We are past mid-summer, and the non-breeding flocks are moving around more.  Watch for them around the Homer area.  The colts are fledging, and very soon families will join the non-breeding flocks.  If you see families with colts among these flocks, please let Kachemak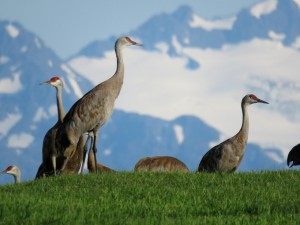 Crane Watch know where you saw them, when, how many colts, and if you can distinguish them, how many families.  Send your report to reports@cranewatch.org or call 235-6262.  Be sure to leave a name and number in case we need further information.
Meanwhile, check out our latest video, "Flock Behavior," at https://www.youtube.com/watch?v=LUOKB7bBxQo.