How many Sandhill Cranes make the Homer area their home during the breeding season?  Kachemak Crane Watch continues collecting data to monitor the numbers of local Lesser Sandhill Cranes.
"We keep track of Sandhill Cranes from Anchor Point south to the head of Kachemak Bay," noted Nina Faust of Kachemak Crane Watch.
Kachemak Crane Watch is asking Homer residents and visitors to monitor the number of Sandhill Cranes being seen this summer.  Anytime on three designated days: : August 27, September 2, and September 8 between 6:00 am – 11:00 pm observers can report the following information:
* Number of cranes:  how many of each–adults, colts, and cranes marked with transmitters
* Date and Time
* Specific Location
Please leave your name and phone number for more details so Kachemak Crane Watch can contact you if needed.
"While this effort will not give us a precise number of cranes around Kachemak Bay, it will provide an estimated population count," said Nina Faust, Kachemak Crane Watch co-founder.   "This is a chance for local residents to become citizen scientists, and also to more closely observe the cranes.  Observers will likely spot some of the family groups now that they have joined the larger flocks and are preparing for migration," Faust noted.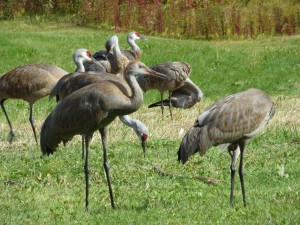 Sandhill Cranes usually leave the Homer area around mid-September to migrate to their wintering grounds in California's Sacramento Valley.
Submit your data reports@cranewatch.org or by calling 235-6262.  
For more information contact: Nina Faust at 235-6262.
Click on the link below to download a Count Day form: