Hi Everyone,
Today, March 9, 2016, Kachemak Crane Watch received the first report of Sandhill Cranes in the Homer area. This is the earliest report we have received. In the past we have had reports of a few flying high and probably heading north as early as the first week of April. Reports of local cranes usually start coming in mid-April.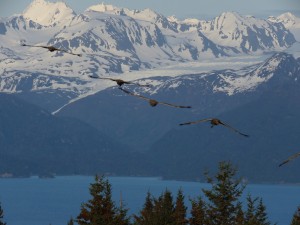 An excited Mary Sanders called Kachemak Crane Watch to report three Sandhill Cranes flying over Beluga Slough and lake area this morning about 8 a.m. The cranes were flying relatively low, which may mean they are local Homer cranes. Please let us know if you see other cranes in the area. With changing weather patterns and reports of a bit earlier departure from Central California, the cranes may have made a fast migration.
Please send crane reports to reports@cranewatch.org or call 235-6262. Spring is arriving early!
All the best,
Nina