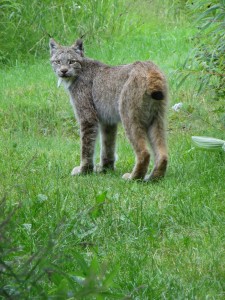 Kachemak Crane Watch encourages website visitors to enjoy the photo gallery.  Unless otherwise noted, the photos included in the gallery were taken by Nina Faust for Kachemak Crane Watch mainly on Inspiration Ridge Preserve in Homer, Alaska.
The photos and videos on this website are copyrighted material.  They are available for educational and non-commercial use free of charge but we do ask that you give credit to Nina Faust, Kachemak Crane Watch.  If you would like to use our images or video footage for commercial purposes, contact Kachemak Crane Watch at reports@cranewatch.org or call 907-235-6262 to work out a use agreement and costs.
Photo above:  Lynx, (Lynx Canadensis), a formidable predator of Sandhill Cranes.

To view photos in the different galleries, click one of the links below: